Day of / Day After Protests When the US Starts Bombing Iraq.
World Can't Wait | June 19, 2014
IN THE EVENT of U.S. bombing of Iraq, choose the best protest location in your city/town, and call on people to go there at 5:00 pm the day of the attack, or, in the case of an evening attack, the next day at 5:00 pm.
Post your event on Facebook.
Post your event at worldcantwait.net.
Stop the U.S. from doing what it's threatening! U.S. bombs, military aid in support its Maliki government will surely make things worse. This is the message World Can't Wait is distributing: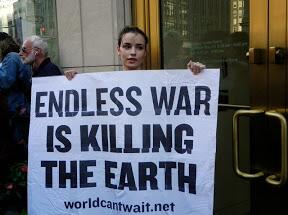 U.S. bombings, economic strangulation through sanctions, and occupation over 23 years are responsible for uncounted deaths – possibly over 1 million – leaving a third of the population displaced, in need of emergency aid or dead.
The current problem is NOT that the U.S. finally withdrew military forces in 2012, but its illegitimate invasions in 1991 and 2003. The USA's occupation of Iraq was conducted in a lawless way, destroying their education, legal, medical, water, sewage, security and electrical systems. When Iraqis rebelled, Bush's "surge" in 2007 handed out arms to Sunni and Shia, supporting death squads on both sides to set them against each other.
The U.S. withdrawal in 2012 left what had been a relatively secular country split along sectarian lines, with a weak puppet government, and a huge opening for Islamic fundamentalists to push for religious rule.
No party in this fight, not Islamic militias, not the Maliki government — paid for by the U.S. — and certainly not the war machine of the U.S. itself, has "right" on its side. Tomahawk missiles fired from US carriers in the Persian Gulf, drone strikes and bombs can only bring unimaginable suffering to the Iraqi people.
We in the U.S. must speak out against any U.S. attacks on Iraq. By exposing and standing against the lies and crimes of our government, whether by Bush or Obama, we can make a difference in how people see what's going on.
Friday June 20
Chicago, New Orleans, Albuquerque, Dallas post reports on Facebook!
Saturday June 21
Washington, DC
Saturday June 21, 1pm
White House 1600 Pennsylvania Ave
Los Angeles, CA
Sat., June 21, 1PM
Pershing Square (Corner of 5th & Hill)
Downtown LA
San Francisco, CA
Sat., June 21, 12noon
Corner of Powell and Market Sts
Sacramento, CA
Sat., June 21, 1PM
Arden Way & Heritage Ln.
Eureka, CA
Sat. June 21, 12 Noon
County Courthouse, 5th & I St.
Fresno, CA
Saturday, June 21 10am – 1pm
Peace Corner – Blackstone & Shaw
Auburn, CA
Sat., June 21, 5PM
At the Fire Pit Corner of Lincoln Way & High St.
Pittsburgh PA
Saturday June 21 1:00 pm
Penn & Highland in East Liberty (116 S Highland Ave)
Fort Wayne IN
Saturday June 21 1:00 pm
Court House Green
Tallahassee, FL
Sat., June 21, 12:30PM
Florida State Capitol 400 South Monroe Street
New Haven, CT
Saturday, June 21, 11AM
College & Chapel Streets
Boston, MA
Saturday, June 21, 1PM
Boston Common outside Park St. Station
Sunday June 22
Seattle, WA
Sunday, June 22, 1PM
Westlake Center 400 Pine St.
Austin, TX
Sunday, June 22, 3-5PM
Texas State Capitol 1300 North Congress
Portland, ME
Sunday June 22 12:00 pm
Congress Square Park
Monday June 23
Raleigh, NC
Monday June 23 at 4pm
Morgan St. side of Capitol Building