Debra Sweet | May 26, 2014
ALERT: Ominous action taken in the U.S. is a Senate vote this week to authorize Obama to move all the 154 prisoners to prisons in the U.S.
This would allow Obama the claim that he has "closed" Guantanamo, while creating a terrible precedent of holding prisoners indefinitely and without charge, and possibly trying those few they have charged in sham military commission trials, within the U.S. Some of the prisoners' attorneys say that disappearing them into the hellhole of mass incarceration here would make it even harder to get them freed, even though many have already been cleared for release.
We will continue to follow these developments and get deeper into the questions raised by what a blog on the New York Times called a possible "trick play" to close the prison.
---
Hundreds globally participated in the May 23 Global Day of Action to Close Guantanamo and End Indefinite Detention. Thanks to Witness Against Torture for coming up with the plan to mark this day, and to Center for Constitutional Rights and many other organizations for joining in.
As we said last week, the prisoners are very interested that we are taking this action, and we know they will see photos and get verbal reports from their attorneys. Here are some snapshots:
Before dawn in Erie, PA, a banner saying "Close Guantanamo" was dropped over a highway. Several young people in orange jumpsuits stood outside the U.S. Embassy in Mexico City with a sign "No Mas Guantanamo." In London and Washington, groups gathered in front of government buildings displaying photographs of the 154 men still held in Guantanamo, almost all without charges, for as long as twelve years. Groups gathered in front of county courthouses in Bozeman, MT and Tiffin, OH as part of actions in 46 cities.
A dozen students at York College in Queens, NY came to protest at Times Square with more than 100 others after seeing a film about Guantanamo in their international studies class. They, like a majority of students approached on another city campus, either did not know that the U.S. set up a prison in 2002 where more than 700 men have been held without charge and tortured, or thought it had been closed by Obama. These students, most not born in the U.S., said it meant a lot to them to hear, at the protest, the words of the prisoners, and different kinds of people saying torture and mass incarceration are wrong.
"We were a small group but we had a big impact," reported protesters from World Can't Wait who talked to groups of soldiers on Waikiki Beach, finding disgust and confusion about previous and possible wars. In Chicago, 50 people made up the largest Guantanamo-related protest in years, and found that more people were stopping, photographing, and taking fliers.
Obama responded to the prisoners' collective hunger strike a year ago by saying that he would take steps to close the prison, but has released just twelve prisoners in that time. All of the 57 Yemeni prisoners, cleared to leave years ago, are still held. Abu Wa'el Dhiab, a prisoner who sued the government to stop the painful torture of force-feeding him during his long-term hunger strike won a temporary respite, but on May 23, a federal judge on the case allowed the military to resume forcing a feeding tube into his stomach. Dhiab, who has been "cleared" for release since 2009, is one of six prisoners the President of Uruguay has offered to give residency immediately, but the U.S. Government has taken no action.
All of this makes the demand to close Guantanamo now more urgent!
Center for Constitutional Rights
Times Square, New York (more photos at Demotix)
Times Square, New York
Times Square, New York (video by Witness Against Torture)

Honolulu, Hawai'i
Tiffin, Ohio
Cleveland, Ohio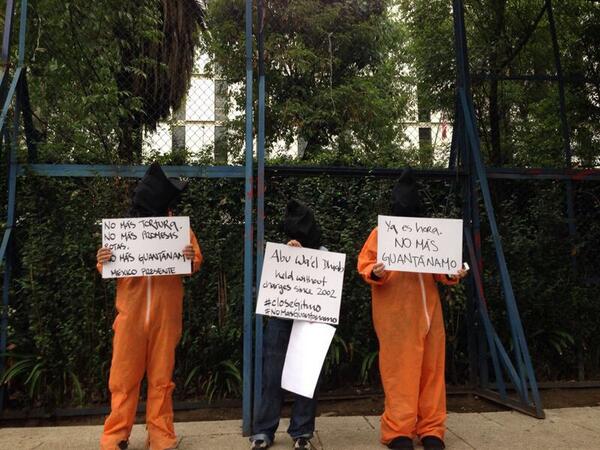 Mexico City
Bozeman, Montana
Australia
San Francisco, California
San Francisco, California
| | |
| --- | --- |
| San Francisco, California | Lansing, Michigan |
Washington, DC
London, England
Orange County, California
Munich, Germany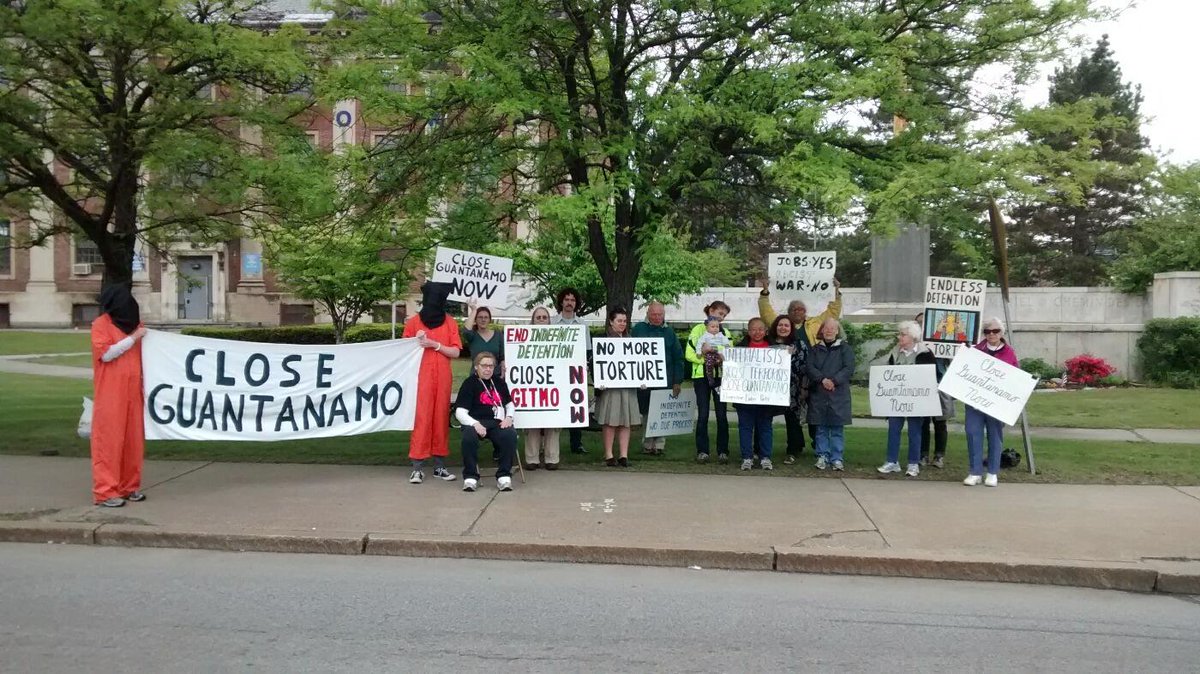 Worcester, Massachusetts
Albany, New York
Other Coverage:
Photos by Witness Against Torture
International Reports: One Small Window
Did you participate in a protest to close Guantanamo and end indefinite detention? Send your photos and reports to reports@worldcantwait.net.