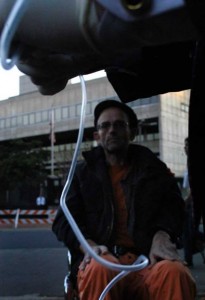 CloseGitmo.net | October 16, 2013
Indefinite Detention & Force-Feeding Are Torture!
Pack the Court – Demand Justice for Gitmo Detainees
US Activist on long-term fast to Undergo "Forced-Feeding" in Solidarity with Guantánamo Prisoners on Hunger Strike
Friday, October 18 at US District Court
333 Constitution Ave NW, Washington, D.C
Enter court at 9 am; Nasal tube feeding & vigil at 11 am
Beginning last February, more than 100 men at Guantánamo engaged in a hunger strike to protest their indefinite detention. To try to break the protest, the US military subjected dozens of the hunger strikers to the cruel and degrading practice of nasogastric force-feeding.
On October 18, the Federal Court of Appeals in Washington, DC will hear a case, first ruled on in July, seeking an injunction against force-feeding at Guantánamo on the grounds that it violates human rights and the right of religious worship. The case goes to the heart of the evil of the prison, as it argues that the purpose of force-feeding is to sustain an illegal and immoral policy of indefinite detention.
Anti-torture groups are asking that we pack the courtroom to show our support for the attorneys arguing the case and their clients at Guantanamo.
We will gather at 9 am to enter court
Andrés Thomas Conteris — on day 103 of a fast on water, coconut water and vitamin/electrolyte supplements — will undergo a nasal tube feeding in solidarity with the men at Guantánamo and to dramatize the cruelty of force-feeding. Conteris, who has lost 57 pounds, has undergone nasogastric feedings at the White House, in Oakland, California, and at US embassies in Uruguay and Argentina. Conteris, age 52, began his fast at the height of the Guantánamo hunger strike July 8, when thousands of US prisoners began hunger striking to protest the use of extended solitary confinement at Pelican Bay and other prisons.
The nasal tube feeding will begin at 11 am, directly after the hearing of the Guantanamo case
Seventeen men remain on hunger strike at Guantánamo, with sixteen force-fed. Senators Dianne Feinstein and John McCain, the American Medical Association, and the United Nations have all denounced force-feeding.
Prompted by the hunger strike and the global outcry against Guantánamo, President Obama on May 23, 2013 renewed his pledge to close the prison. Since that time, only two prisoners, both among the 86 long cleared for release by the US government, have been freed.
Witness Against Torture and CloseGitmo.net
Contact: Jeremy Varon, jvaron@aol.com, 732-979-3119
Andrés Thomas Conteris, andres@CloseGitmo.net, 202-232-1999 overseas til Oct 16
Amutabi Haines, amutabi@CloseGitmo.net, 510-274-3874
This call to action was originally posted at closegitmo.net.