Hayat, World Can't Wait Intern | October 25, 2014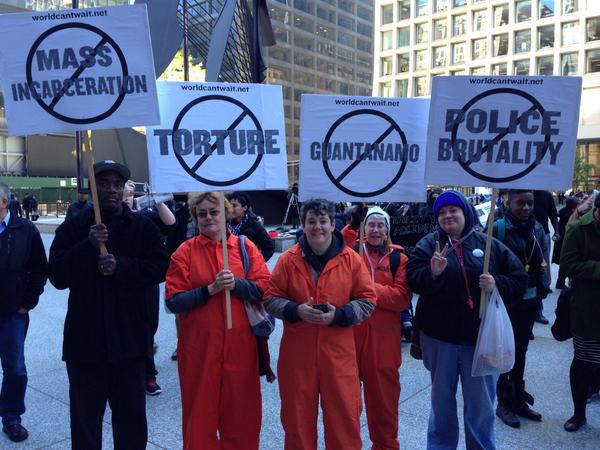 All over the nation, over 70 cities chose to participate in the 19th annual National Day of Protest to Stop Police Brutality, Repression, and the Criminalization of a Generation held on October 22nd, 2014. We here at World Can't Wait also joined in.
We marched loud and strong from Union Square to Times Square in NYC despite being told we would not be able to do so. The protesters gathered at Union Square at 1, around the truck that was leading the rally. Many speakers, including those affected by police brutality and mass incarceration, were on the van demanding that there would be an end to these horrors.
Speakers included: Carl Dix, Noche Diaz, Juanita Young, Alicia Garner, Jamel Mims, Cynthia Howell, Nicholas Heyward, Danette Chavis, Iris Baez, Terry Hubbard, and many more.
Darielle Harris from Fierce, NYC; an organization building the leadership and power of lesbian, gay, bisexual, transgender, and queer (LGBTQ) youth of color in New York City, also had something to say about the stop mass incarceration protest that was held on Oct 22. She stated that, "Our chants and Fierce's years of organizing, educating, and campaigning around the unjust policies, tactics, and actions, of the NYPD speak for themselves. The criminalization, targeting and murder of POC, especially LGBTQ youth of color in NYC is nothing new as long as it continues and Fierce and other organizations will always be at these rally's, protests and marches yelling our chants; making our voices heard and holding the NYPD accountable."
Some of the chants that could be heard by this group of social justice movement leaders during the protest were:
'From Ferguson to NYC
Take the streets and f*ck the police'
'We don't need no cops,
rolling down our blocks,
we'll make the violence stop,
now drop it like it's hot'
'Back up, Back up
We want freedom, freedom
all these racist a*s cops,
we don't need 'em, need 'em'
'No cop zone,
No cop zone,
They know better,
they know better'
'Whose streets?
Our streets!'
'No justice, No peace
No trans-phobic police'
'From Ferguson to Palestine
occupation is a crime'
After reaching the NYPD's office in Times Square, many cheers were heard — what we were told we could not do had been done.
After leaving the protest and sitting down in Times Square, we met a city sweeper who initiated conversation about the protest. Asking if we joined, we said yes, and he continued to tell us his own personal story about being convicted of a crime he did not do and was forced to spend 29 years in prison– finally getting out in 2008. He told us about his non-jury trial where the judge plead him guilty, and after the judge's retirement, they admitted to his innocence. He told us that the protest struck a chord with him and that he supported this movement. He also mentioned he was writing a book coming out soon, titled "Standing Tall in Times Square"
All in all, the protest was successful. Fists up!
Hayat is an intern with World Can't Wait. If you are a high school/college student or educator in the NYC area interested in the World Can't Wait internship program, please get in touch.